In order to establish, maintain and develop customer relationships and achieve win-win situation between the customer and our company, we mainly provide customer services, such as business service, technical support, testing service, data service etc.
Business Service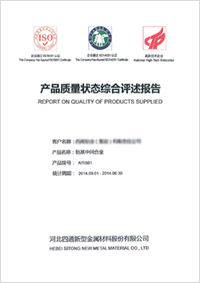 Business department visits customers according to the annual service plan, to know customer's demand, using effect of our products and improvement suggestions in time through communication, so that to do a good job in pre-sale, sale, after-sales service.
Technical Support
Our professional technical personnel can provide usage guidance of our products on-site to the users, to optimize the use performance of our products, provide tailored technical improvement suggestions for users based on practical application situations, to support customers to improve their product quality.
Testing Service
Besides the responsibility of strict quality control, our testing center also provides product testing service for customers and shares the advanced testing resources with customers.
Data Service
Each month we organize the professional personnel from the departments of Technology, Quality Control and Sales to make the data summary and analysis of the quality certificate we supplied to customers to form a Monthly Quality Report. Such reports are submitted to the customers as data reference and archive information with professional and technical value.